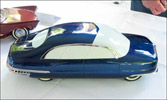 Click for larger view
As for the contest, back in 1947, Jordan received a brief writeup in the weekly auto column after winning the Fisher Body Craftsman's Guild Award.

We caught up with him again in 1965 when he was in charge of the automotive design studios at General Motors Styling. By then, the Fullerton High graduate was visiting the Art Center to monitor students' progress on a special design project.

"A man has to have a real sincere interest in cars," Jordan told The Times' Bob Thomas. "Otherwise they get awful tired within a year working with cars. Every designer we have is a car bug. Also he must have the talent to design new, bold ideas. We're not after face-lifters or customizers. It takes a real talent to dig up something new."

As for the Fisher Body Craftsman's Guild Award, the contest that was started as philanthropy project during the Depression was eliminated in 1968 as a cost-saving measure.

The Automotive Chronicles has an article on a reunion of Fisher Body Craftsman's Guild Award winners.