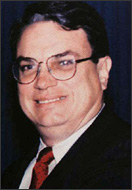 John L. Jacobus

Mr. John L. Jacobus retired recently from the U.S. Department of Transportation in Washington, DC having worked on auto safety regulatory issues for 30+ years. During that time he was primarily a technical writer and prepared, among other analyses, formal legal policy documents called, "regulatory evaluations." Before that he worked on a lofting table as Design Engineer at Fisher Body Division, General Motors Corporation in Warren, MI. He studied Industrial Design briefly at the Art Center College of Design in California and Wayne State University in Detroit. As a youth, he participated in the Craftsman's Guild from 1961 to 1966.

His hobby and passion for the past 40 years has been automobiles, automotive history, automotive design history and for the past 20 years, auto stylists/designers and the collecting of Fisher Body Craftsman's Guild memorabilia. A Craftsman's Guild exhibit and collection he spearheaded at the Smithsonian Institution's National Museum of American History (consulting with Roger B. White, Assistant Curator, and William L. Withuhn, Curator) in Washington, DC, galvanized his interest in the history of this youth industrial design prep program.

As a result of collecting memorabilia, corresponding with former participants as well as talking to many former Guildsmen, he wrote an article about the Guild for Automobile Quarterly Vol. 25, No.2 (1987), made a presentation on the subject to the Society of Automotive Historians, September 1998 at the Henry Ford Museum and Greenfield Village and wrote another article about the Guild, with co-author Skip Geear, which appeared in the SAH Automotive History Review, No. 34, Spring 1999 as expertly edited by Zachary Taylor Vinson. For more information, please to go www.autohistory.org.

You may contact John personally for information, questions or concerns about his book, The Fisher Body Craftsman's Guild -- An Illustrated History.