The Fisher Body Craftsman's Guild Model Car Competition, truly a lifelong enriching experience filled with automotive-vehicle design creativity, excitement and rewards!

I first learned about the Guild through an "ad" I saw in "Boys Life Magazine" which I got through a subscription offered at school. I was 10 years old. A friend, Robert Marshal and I drew cars together, each continually trying to best each others designs. We did this all through Grade School and on into High School. During my Sophomore year at Lane Technical H.S., I enrolled in a class called Model Shop and the Instructor, Mr. Max Miller, let each student make a model of his own choice. Some students built ship models, others built model airplanes and several of us built model cars. I was the first student in his class to actually enter the Guild Competition and win an Award. In this case, my first try as a Guildsman earned a 2nd State Award, $100 dollars and the motivation to try again the following year. I had tasted success, became a Guildsman and I intended to keep building model cars until I had one that achieved National Award Winner status. My dream of course, was to become an Automobile Designer/Stylist, and work for General Motors Design Staff, required a good college education. The way to underwrite the expense to achieve this, was to build a winning model car for the Guild Competition.

My dream, to build a winning model car for the Guild Competition took me 5 more trys, with each of the next 4 models winning 1st State and 1st Regional Awards for my home state of Illinois, however, winning a National Award or Styling Award eluded me. I had one more year left, 1966, before I was too old to compete in the Guild. By this time, I was a Sophomore in College, carrying maximum credit hours and yet found/made time to design and build a new radically advanced design model car.

One clear advantage to being a Regional Award Winner was that you attended the Guild's National Convention in Detroit for 4 days. During this time, you toured GM Styling and talked with designers on the job, but most importantly, you got to see all the other Jr./Sr. Regional Awarded model cars. Selected from these, the National and Styling Scholarship Awarded model cars were announced at a gala Awards Banquet. This was really something special and an exciting event. By being there, each of us got to see the "winning cars" and this gave us a clear indication of what it took to design and build a winning model car. For those of us who didn't win that year, we had another possible chance to try the next year.

In my case, applying all that I had learned from my 4 previous "Regional Award" trips to Detroit, I began my best and final attempt, designing and building my 1966 "Open Category" Guild entry. This was a 3-wheeled, tandem seat, twin turbine powered "high speed" Medical Emergency Dispatch Vehicle that looked like it was moving while standing still. Headlights were integrated into the twin-turbine air inlet cones, which moved in/out of the air inlet annulus to control air-flow into the turbine engines and the taillights were integrated into the trailing edge of the "aero struts" that attached the turbine engine pods to the central car body. The nose of the car was low to the ground and the tail was high, giving the car an aggressive stance which visually suggested its name, SCORPION.

As I mentioned, this was my last chance at becoming a Guild National Award Winner and much to my surprise, delight and good fortune, my perseverance and hard work finally paid-off. My 3-wheeler was awarded 2nd National Award, Senior Division! My dream had come true and with the scholarship funds received from this, I was able to complete my Junior and Senior years of college and was offered a designer job at GM Styling after graduation from art-design school in 1968.

In all, I built 6 model cars which were entered into the Guild Competition from 1961-1966. With each new year came a new and different designed model car and with each new model car came new skill sets learned from the experience of the previous years model entry/competition and from seeing first hand the winning cars from the previous year. This was an ongoing, invaluable and tremendous learning experience and process. The outcome of this was practical experience gained in design, planning/time management, materials selection and part fabrication/assembly, craftsmanship, attention to details and project completion. All of these skillsets have become an integral part of the way I think and work as a professional "creative designer" today.

I grew up with exceptional, dedicated parents and grandparents who were always there to lend support and encouragement for me. Always! My Father is a "mechanical engineer" and an avid model airplane builder/flyer and my Grandfather was a tool and die-maker and inventor. We were all very close, and from an early age, I learned from both Dad and my Grandfather how to build and fly model airplanes, how to use power tools in our basement machine/wood shop. Building things became a passion we all shared and enjoyed together. Both men whole heartedly encouraged my involvement in the Fisher Body Craftsman's Guild Model Car Competition and were there to council me as I was confronted with design and building challenges that each years new Guild model car's design presented.

Upon completion of each of my models, all 3 of us drove to Detroit and delivered my model personally to C.W. McClellan's Guild office at Fisher Body Division Headquarters in Warren, Michigan to insure its safe delivery. These trips were highlighted with either Mac McClellan or Rolf Amundson giving us a tour of some interesting area of the Fisher Body Engineering facility which we really enjoyed and talked about on our drive back to Chicago. (Not forgetting my Mother and Grandmother, they too gave their love, support and understanding.) Their gifts of knowledge and skills taught to me is something I treasure and use every day. My Dad, Grandfather and the Guild Experience helped fashion who I've become and what I've done with my personal life and professional career in Design.

Regrettably, the Fisher Body Craftsman's Guild Model Car Competition is no more! I would have liked to have had the chance to introduce my children to the Guild Experience and give them the same support that I had as a young Guildsman, so they too could have had the opportunity to participate and come to realize their "dreams" much as I had through this positive life enriching experience.

One thing remains certain and it's that the Guild was something very special, and it influenced and changed the course of many of our lives in a positive way!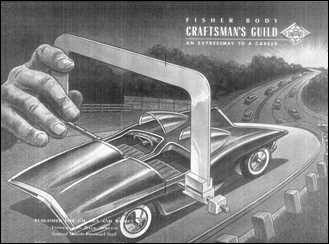 Fisher Body Craftsman's Guild ad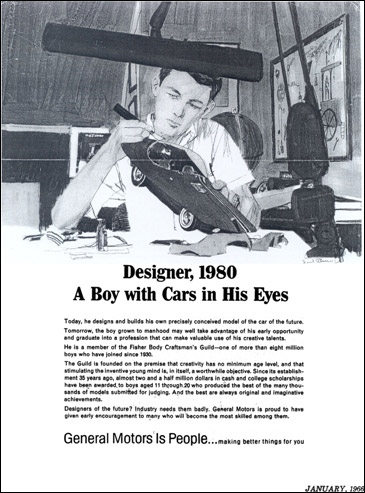 1966 Fisher Body Craftsman's Guild ad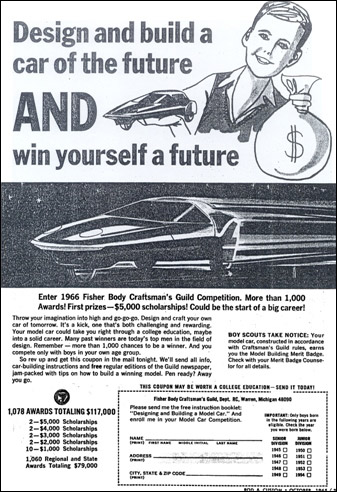 1966 Fisher Body Craftsman's Guild Competition ad


John M. Mellberg
2nd Place Sr., National Award Recipient, 1966.
Fisher Body Craftsman's Guild Model Car Competition